Boca Raton
Back to Cities
Select a Community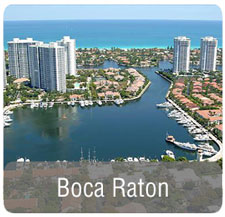 Welcome to Boca Raton
Boca Raton
An exclusively affluent lifestyle awaits you, when you choose from one of the many Boca Raton, Florida homes for sale. The area has a rich history throughout South Florida, as one of the wealthiest and most well-known communities in all of Palm Beach County, Florida. Boca Raton has every feature a new homebuyer is searching from; including easy access to some of the most incredible beaches in the area, fantastic shopping opportunities, plenty of outdoor recreational pursuits, and most importantly, beautifully appointed homes. The city has some of the nation's most expensive gated communities. Many of them feature homes with waterfront views, as well as those resting on golf courses and beautifully manicured yards. As well, with a population of more than 87,000 residents, Boca Raton is one of the largest cities in the region. Officially incorporated in the mid 1920s, the city of Boca Raton includes about 29 square miles of lovely neighborhoods and communities with the upscale buyer in mind. Boca Raton residents have a median household income, on average, well above the state average
Location
Boca Raton is conveniently found between Florida's Turnpike, and I-95, with easy access to both roadways, and the rest of South Florida. The city is south of Boynton Beach, Delray Beach and Lake Worth, in the southern portion of Palm Beach County, Florida. The city of Boca Raton is north of Pompano Beach, and about 20 miles north of the tourist-rich community of Fort Lauderdale, Florida.
Communities
With a wide variety of different types of Boca Raton, Florida homes for sale, you are sure to find the right option for your lifestyle. Experience a condominium home in the heart of Boca for less than $100,000, all the way up to a grand estate home for well upwards of $10 million dollars. If you are searching for a waterfront view, you are sure to find an incredible new luxury condominium at Luxuria where the ocean is right outside your door. The Royal Palm Yacht and Country Club provides single-family homes in excess of 14,000 square feet. As for gated communities, Boca is rich with those, as well. From the luxury of Boca Falls, to the one-acre lots of Rio Poco and the family atmosphere of Saturnia, the choices are plentiful. The area also is home to several golfing communities, like Addison Reserve, which features three nine-hole golf courses, and Woodfield Country Club, with its tennis courts, resort-style pool and basketball courts, perfect for families with growing children. If a country club community is what you area after, without the need for a full-sized home, take a second look at Broken Sound Country Club and Golf Community. Tucked inside the central portion of the city, the community features single-family estate homes, as well as villas and townhomes. Expect to find prime real estate for both year-round residents, and seasonal residents. Along with the large number of established communities in Boca Raton, a large amount of Boca Raton is actually unincorporated land, west of city limits. The real estate market is in high demand. A number of new developments are planned for the area, including some new, gated communities and golf courses.
Things to Do
As far as outdoor recreation, residents and tourists of Boca Raton enjoy snorkeling at Red Reef Park. Boca's East Coast also includes miles of golden beaches for swimming and lounging. There are also areas for surfing, canoeing, kayaking and volleyball. The region is also the perfect location for drift fishing, sailing, scuba diving and water skiing. An active lifestyle is sure to be rewarded living in beautiful Boca Raton. For additional options, the City of Boca Raton owns two golf courses. There are dozens more to choose from around the Palm Beach County region, with both public and private courses available. As well, residents have various choices when it comes to entertainment in the Boca Raton region. The Boca Raton Museum of Art is the place for art and culture in the Mizner Park area. The region is credited with helping revitalize the downtown Boca Raton district. It includes an outdoor amphitheater, which hosts family-friendly concerts and events throughout the year. The area also features the Boca Ballet and Boca Raton Children's Museum
Shopping
The choices are plentiful when it comes to shopping venues in Boca Raton. Mizner Park also hosts an outdoor shopping center featuring dozens of shops and is a dining destination. Shoppers also have the choice of heading to Town Center at Boca Raton. The upscale building is one of the largest indoor shopping malls in all of South Florida. The destination features more than 200 high-end retailers. Royal Palm Place is Boca's oldest shopping center, including around 80 stores, many of them nationally known. Other options include the dozens of shopping areas in the region like Oaks Plaza, Polo Shops and Garden Shops of Boca. For additional choices outside of Boca Raton, head to nearby Palm Beach for the world-famous Worth Avenue. The area includes more upscale, boutique shops, as well as fine dining locations and incredible art galleries.
Local Economy
As far as some of the larger employers in the region, Office Depot's corporate headquarters is located in Boca Raton. Florida Atlantic University is also located there, and employs a large number of local residents. Other large contributors to the local economy include Boca Raton Regional Hospital and the City of Boca Raton, itself.
Ready to Buy?
Now that you are ready to buy a new home, let My Area Realty be you guide, as you explore the many communities and amenities that Boca Raton, Florida has to offer new homebuyers. No matter whether you are searching for a townhome, a villa, or a sprawling estate-sized home, make us your first stop when it comes to Boca Raton, Florida homes for sale. We will help lead you through the home buying process, and put you in the home of your dreams.
Choose a Community Below