Lantana
Back to Cities
Select a Community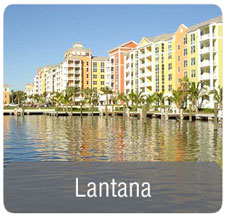 Welcome to Lantana
Lantana
Enjoy the laid back lifestyle of a former fishing village, when you make the coastal community of Lantana, Florida your next home. With about 10,000 residents, Lantana is one of the oldest communities of South Florida and covers roughly three square miles. The winter season brings in a few thousand additional part-time residents to the area. There are several options to choose from when you invest in one of the many Lantana, Florida homes for sale. Whether you are looking for a condominium community, a townhome, or a luxury estate, the choices are available right now, and waiting for you in beautiful Lantana, Florida.
Location
Lantana is located in Palm Beach County just south of Lake Worth and West Palm Beach, and north of Delray Beach and Boynton Beach. The Village of Wellington is to the northwest of Lantana. With a great location right along the water, and easy access to I-95, the Town of Lantana is in a fantastic location to visit all of South Florida and its many offerings.
Communities
The communities of Lantana offer a great variety of homes in the Palm Beach County area. With various Lantana, Florida homes for sale, the opportunities are endless in such communities as Island Towers, Mango Villas and Waterway Club. For some of the most luxurious surroundings and incredible views, there is The Village at Ocean Walk. The large townhomes include panoramic views of the Intracoastal, with unique floor plans, security gates, and the ease of community maintenance. The Moorings at Lantana offers additional luxury condominiums with Intracoastal views and easy access to area beaches and other facilities. Find some reasonably priced starter homes in Seminole Manor and Lantana Heights, or some estate-sized homes right along the waterfront in Point Manalapan. No matter your budget, or your lifestyle, the options are endless when it comes to the many Lantana, Florida homes for sale.
Things to Do
Outdoor adventures await you when you enjoy the eight acres of city-owned beaches in Lantana. The oceanfront property includes a playground, picnic areas, restrooms with showers and a lifeguard station. The town of Lantana also has four community parks, which include more playgrounds, tennis courts, shuffleboard courts, a picnic area and a small boat launching area. To the north, in Lake Worth, you will find the Lake Worth Historical Museum and the Lake Worth Playhouse. The playhouse is a great location for the performing arts. Lake Worth also features some additional beaches and some of the best surfing locations in all of South Florida. Further to the north in West Palm Beach, enjoy the Intracoastal and beaches, along with the annual SunFest. The waterfront festival brings in large music acts and artists, as well as thousands of tourists to the area each year. Also, in West Palm Beach, enjoy the Kravis Center for the Performing Arts. It is the home of live musical theatre, the ballet and the opera. For outdoor family musical entertainment, head to Meyer Amphitheater. While there, explore the largest art museum in the entire state of Florida, at the Norton Museum of Art. Drive south to Boca Raton for the Boca Raton Museum of Art and to view the Boca Ballet. For outdoor recreation, Boca features Red Reef Park. The area provides some fantastic locations for snorkeling, canoeing, surfing and kayaking. Nearby Boynton Beach also has the Lofthus Underwater Archaeological Preserve. It is a great place for diving, and very popular with local residents. The area also includes one of the oldest homes in the area, the carefully preserved Andrew Home. Additional spots in Boynton Beach include the Schoolhouse Children's Museum and a new marina in Downtown Boynton Beach.
Shopping
There are several shopping options available to residents living in Lantana. A short distance from Lantana is Downtown Lake Worth. The city's revitalized downtown features many unique retail stores and restaurants. For additional choices, head further north to West Palm Beach. Downtown's CityPlace provides an indoor shopping center with dozens of specialty retailers and restaurants. Nearby Worth Avenue is the place to go for fine dining and upscale shopping with designer names in mind. Clematis Street is the historic district in West Palm Beach, featuring trendy restaurants and shops you will not find anywhere else. It is also an entertainment district by night. To the south of Lantana, visit Delray Beach for its eclectic mix of shops with one-of-a-kind finds. Delray Beach also has a great area for antique shopping. Further south and you will reach Boca Raton. Visit Mizner Park while you are there, for dozens of shops in an outdoors setting. Town Center at Boca Raton features one of the largest indoor shopping malls in the area, with more than 200 upscale stores and high-end retailers for shoppers to enjoy. Nearby Boynton Beach also features the Boynton Beach Mall. The traditional shopping center includes more than 140 specialty shops, national retail stores and restaurants of various budgets and styles.
Local Economy
Large employers in the area of Lantana include the School District of Palm Beach County. It is one of the largest public school districts in the nation by student enrollment numbers. The State of Florida is also a large employer in the area, as is the strong tourist industry of Palm Beach County.
Ready to Buy?
If you are ready to make your new home within a fantastic community, with waterfront access and endless recreational and cultural options, choose from one of the many Lantana, Florida homes for sale. My Area Realty is a leader in the market when it comes to Palm Beach County residential real estate. We know the Town of Lantana and can help guide you as you explore the many neighborhoods that make up this fantastic Palm Beach County community. Do not delay. Call us now to learn even more about the Town of Lantana and to find out which neighborhoods are the best choices for your family and your lifestyle. The opportunities are endless when you make Lantana your choice for a new home.
Choose a Community Below